Shiva Gutika is a famous and effective Ayurvedic medicine. It is used for a variety of diseases like liver and spleen disorders, respiratory conditions, neuro-psychiatric conditions etc.
Uses
It is used in the treatment of liver and spleen disorders, ascites, hiccup, rhinitis, bronchitis, cough, anemia, cardiac diseases, vomiting, gout arthritis and skin diseases. It is also used in the treatment of epilepsy and psychotic diseases.
Doctors also use this for the treatment of
IBS – Irritable bowel syndrome
Hypothyroidism.
Dosage
Shiva Gulika dose: 6 grams in divided dose in a day. It is administered with milk, meat soup, pomegranate juice, raisins, appropriate asava and arishta based on the target disease.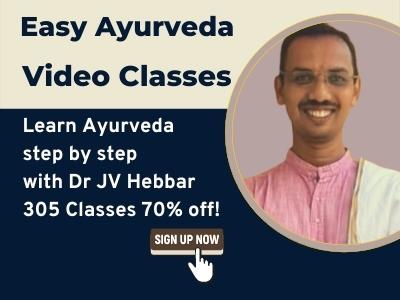 With western medicines
Seek your doctor's advice if you are taking this product along with other western (allopathic/modern) medicines. Some Ayurvedic herbs can interact with modern medicine.
If both Ayurvedic and allopathic medicines are advised together, then it is best to take allopathic medicine first, wait for 30 minutes and then, after a gap of 15 – 30 minutes, take Ayurvedic medicine or as directed by the physician.
Can this be used while taking Homeopathic medicine?
Yes. This product does not react with homeopathic medicine.
With supplements like multivitamin tablets, Omega 3 fatty acids etc?
Yes. Generally, this product goes well with most of the dietary supplements. However, if you are taking more than one product per day, please consult your doctor for an opinion.
Shloka Sanskrit Verse
Side effects
There are no side effects with this medicine. But it is to be taken only under prescription by a qualified Ayurvedic doctor.
Shloka Sanskrit Verse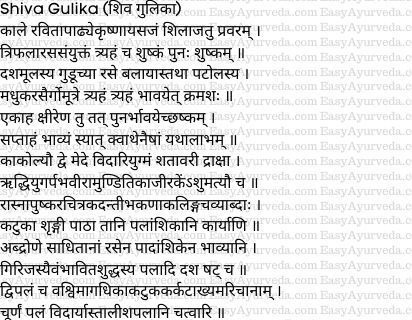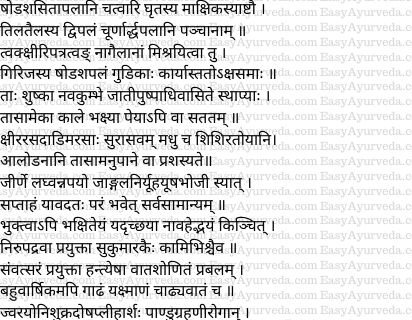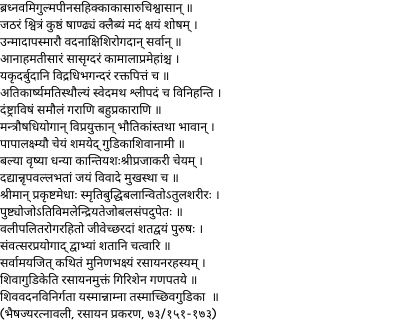 Contents
Shiva Gulika ingredients:
Shilajatu – 768 g
Triphala kashaya – A water decoction made of Haritaki, Vibhitaki and Amalaki read more about how to make kashayam)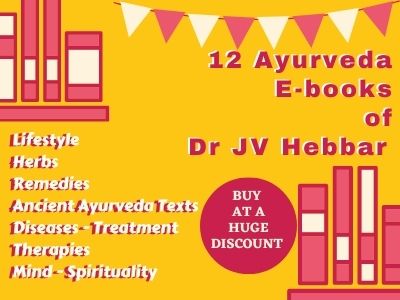 Dashamoola Kashaya – A water decoction made of group of ten herbs.
Guduchi kwatha – A water decoction made of Tinospora cordifolia
Patola kashayam – A water decoction made of Trichosanthes dioica
Bala Kashayam – A water decoction made of sida cordifolia
Yashtimadhu – Licorice
Cow urine
cow milk
kakoli – Lilium polhyllum
Ksheerakakoli – Frillaria roylei
Musta – Cyperus rotundus
Pushkaramoola – Inula racemosa
Chitraka – Plumbago zeylanica
Rasna – Pluchea lanceolata
Meda – Polygonatum cirrhifolium
Mahameda – Polygonatum verticillatum
Riddhi
Chavya – Piper cubeba
Gajapippali – Scindapsus officinalis
Pata – Cissampelos pariera
Jeevaka, Rishabhaka
Danti – Baliospermum montanum
Vidari – Pueraria tuberosa
Ksheeravidari – Ipomoea paniculata
Veera, coconut
Shalaparni – Desmodium gangeticum
Prishnaparni – Uraria picta
All the above herbs 48 g each, are added with 12.288 liters and kashayam of 3.072 liters is prepared.
Karkatashrungi – Pistacia integerrima – 96 g
Amla – Emblica officinalis – 96 g
Trikatu – Ginger, pepper, long pepper – 96 g each
Talisapatra – Abies webbiana – 192 g
Vidari powder – Pueraria tuberosa – 48 g
Vamsha – Bambusa bambos – 24 g
Cardamom, Cinnamon – 96 g each
Patra – Cinnamomum zeylanicum – 96 g
Nagakeshar – Mesua ferrea – 96 g
Taila – sesame oil 96 g
Cow ghee – 192 g
Honey – 384 g
Sugar – 768 g
Jatipushpa – Jasminum sambac – used for the purpose of fragrans.
Note: Vriddhi, Mahameda, Meda, are usually substituted by most of the companies, as they are very rarely available.
Reference
Bhaishajya Ratnavali Rasayana Prakarana 73/151-173
Manufacturers
Unjha Ayurvedic Pharmacy, SDM Pharmacy Udupi and BV Pundit Nanjangud pharmacy, Nagarjuna – Shiva Gulika
Expiry date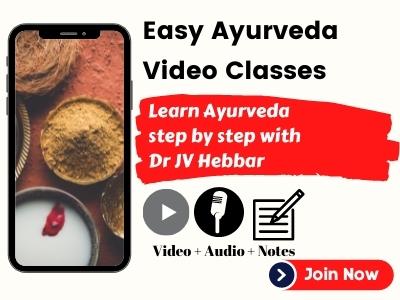 Two years from the date of manufacturing. If you have opened the seal of the container, better to finish the tablets within 6 months.