Sarivadyasava is an Ayurvedic medicine, in liquid form. It is used in the treatment of many skin diseases. It is also known as Sarivadyasav, Saribadyasavam. Its main ingredient is – Sariva – Indian Sarsaparilla.
Uses
Sarivadyasava uses:
Sarivadyasava is used in the treatment of gout, diabetes, diabetic carbuncles and related skin complications, skin infections and in rheumatism. It is a natural blood detox product.
Doctors also prescribe this for the treatment of
Excess sweating, burning sensation, hyper-hydrosis.
Cracked heels with burning sensation
Allergic dermatitis, contact dermatitis, psoriasis, eczema,
tinea infection, pruritus, itching in private parts
Ring worm infection, acne vulgaris, pimples, boils, pustules, blisters
prostatitis, excess burning urination, Pemphigus vulgaris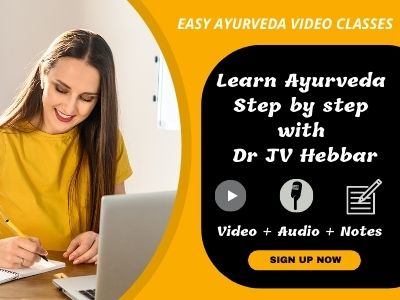 Dose
Sarivadyasava dose: 12 – 24 ml once or twice a day, after food or as directed by Ayurvedic doctor.
With western medicines
Seek your doctor's advice if you are taking this product along with other western (allopathic/modern) medicines. Some Ayurvedic herbs can interact with modern medicine.
If both Ayurvedic and allopathic medicines are advised together, then it is best to take allopathic medicine first, wait for 30 minutes and then, after a gap of 15 – 30 minutes, take Ayurvedic medicine or as directed by the physician.
Can this be used while taking Homeopathic medicine?
Yes. This product does not react with homeopathic medicine.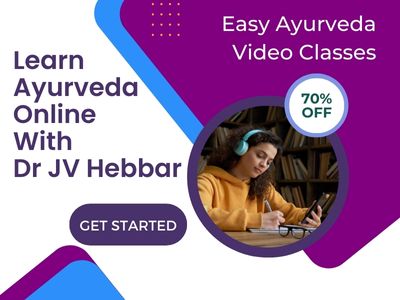 With supplements like multivitamin tablets, Omega 3 fatty acids etc?
Yes. Generally, this product goes well with most of the dietary supplements. However, if you are taking more than one product per day, please consult your doctor for an opinion.
Side effects
Sarivadyasav side effects: There are no known side effects with this medicine. However, it is best to use this product under medical supervision
This product can be used during lactation and in children in low dose.
Seek medical advise for its usage during pregnancy.
How long does it take to start showing results?
Depends on the dosage and other products suggested with this. Usually 1 – 2 weeks time.
Can this product be taken along with Allopathic medicines (English medicines)?
It may react with some medicines. Consult your doctor for the right advice. When English and Ayurvedic medicines are advised together, it is best to take English medicine first, give a gap of half an hour and then take Ayurvedic medicines.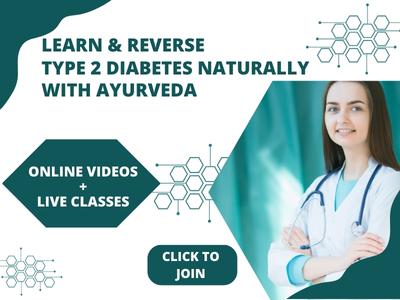 Can it be used in people with diabetes?
Yes. But an eye should be kept on the blood sugar level. Your doctor should help you in this regard. This product can reduce blood sugar levels.
It is sold in plastic bottles. Is it fine?
If the quality of the bottle material is very good, it should not be problem, if stored for a short period of time.
Can this be taken without consulting a doctor?
No. In many cases, this product alone might not work. More often this is given in combination with a few Ayurvedic medicines. Your Ayurveda practitioner will be the best judge to decide on those things.
Can one take non vegetarian food while taking this medicine?
Yes, unless your practitioner has asked to avoid it.
Is there any Pathya (diet rules to be followed while taking this product?
No product specific diet is mentioned. If the practitioner has advised diet control based on disease, one has to follow that.
Avoid excess spicy foods, junk foods, aerated drinks, frozen and canned foods
Can this be taken while taking multivitamin tablets?
Yes, generally. Your consulting doctor will be good judge on this topic.
Sarivadyasavam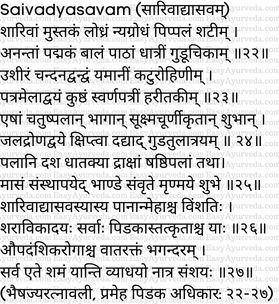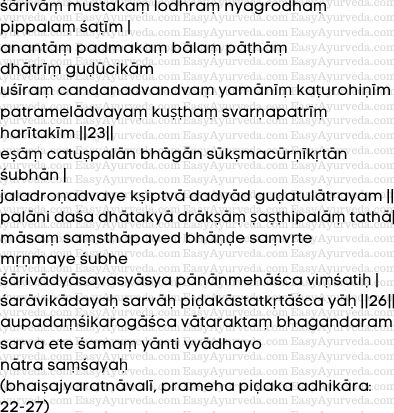 Contents
Sarivayasava ingredients and method of preparation:
Sariva – Indian Sarsaparilla – Hemidesmus indicus – Root – 384 g
Musta – Cyperus rotundus – Rhizome – 192 g
Lodhra – Symplocos racemosa – Stem bark -192 g
Nyagrodha – Ficus benghalensis – Stem bark – 192 g
Ashwattha – Ficus religiosa – Fruit – 192 g
Shati – Hedychium spicatum – Rhizome – 192 g
Padmaka – Prunus cerasoides – Stem – 192 g
Hribera – Coleus vettiveroides – Root – 192 g
Pata – Cissampelos pariera – Root – 192 g
Amla – Emblica officinalis – Fruit – 92 g
Guduchi – Tinospora cordifolia – Stem – 192 g
Ushira – Vetiveria zizanoides – Root – 192 g
Shweta chandana – Santalum album – Heartwood – 192 g
Rakta chandana – Pterocarpus marsupium – Heartwood – 192 g
Yamani – Trachyspermum ammi – Fruit – 192 g
Katurohini – Picrorrhiza kurroa – Rhizome – 192 g
Patra – Cinnamomum tamala – Leaves – 192 g
Sthula Ela – Amomum subulatum – Seed – 192 g
Cardamom – Elettaria cardamomum – Seed – 192 g
Kushta – Saussurea lappa – Root – 192 g
Svarnapatri – Cassia angustifolia – Leaves – 192 g
Haritaki – Terminalia chebula – Fruit rind – 192 g
Water – 24.576 liters
Dhataki – Woodfordia fruticosa – Flower – 480 g
Raisins – Vitis vinifera – Dried fruit – 2.8 kg
Method of Preparation
Jaggery is added to the specified quantity of water, allowed to dissolve and filtered. To this Dhataki, raisins and other coarsely powdered ingredients are added and kept closed in an air tight container for one month time. During this period, fermentation takes place. Then the contents are filtered to get a clear liquid – Sarivadyasava. It is stored in a hygienic atmosphere.
Reference
Sarivadyasavam reference: Bhaishajya Ratnavali Prameha Pidaka Adhikara – 22 – 27

Manufactured by:
Nagarjuna – Shaaribaadyaasavam
Research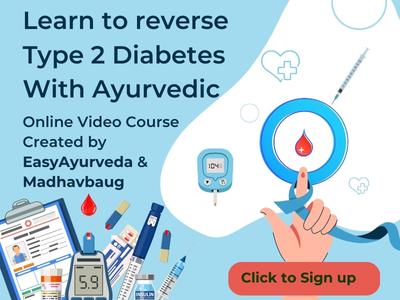 A clinical study was done to evaluate efficacy of leech therapy in conjunction with oral intake of Sarivadyasava in the management of acne. The research was done as part of dissertation work by Dr Motilal Rathod, Department of PG Studies in Kayachikitsa, SDM College of Ayurveda, Kuthpady, Udupi, Karnataka.