Madhukasavam is an Ayurvedic medicine in liquid form. It is nourishing in nature. But this medicine should be taken only under strict medical supervision. It contains self generated alcohol – 5 – 10 %, which acts as natural preservative.
Uses
Madhukasavam uses: It is traditionally used in the treatment of emaciation, after chronic disease, tiredness, bleeding diseases and skin diseases.
Traditional uses
Malabsorption disorder, IBS – Grahani
Improves digestion strength – Deepana
Improves nourishment, causes weight gain – Bruhmana
Useful in bleeding disorders such as nasal bleeding, menorrhagia, – Pittaraktanut
Emaciation – Shosha Skin diseases – Kushta
A type of leucoderma – Kilasa
Urinary tract disorders, diabetes – Prameha
Dose
Madhukasav dose: 12 – 24 ml once or twice daily after food or as directed by Ayurvedic doctor.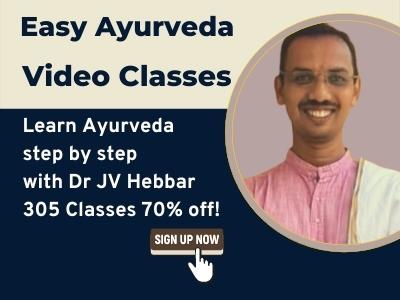 With western medicines
Seek your doctor's advice if you are taking this product along with other western (allopathic/modern) medicines. Some Ayurvedic herbs can interact with modern medicine.
If both Ayurvedic and allopathic medicines are advised together, then it is best to take allopathic medicine first, wait for 30 minutes and then, after a gap of 15 – 30 minutes, take Ayurvedic medicine or as directed by the physician.
Can this be used while taking Homeopathic medicine?
Yes. This product does not react with homeopathic medicine.
With supplements like multivitamin tablets, Omega 3 fatty acids etc?
Yes. Generally, this product goes well with most of the dietary supplements. However, if you are taking more than one product per day, please consult your doctor for an opinion.
Side effects
Madhukasava side effects; It may cause gastritis in people having sensitive stomach. It is not suitable for children, pregnant and lactating mothers.
Contents
Madhukasava ingredients: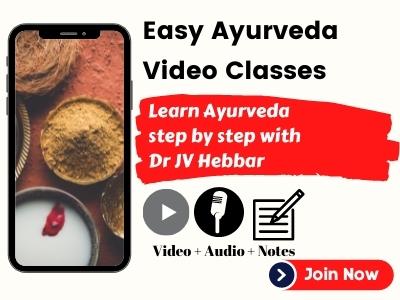 Madhuka – Madhuca longifolia – 12.288 kg
Vidanga – Embelia ribes – 6.144 kg
Chitraka – Plumbago zeylanica – 3.072 kg
Purified Bhallataka – Semecarpus anacardium – 3.072 kg
Manjishta – Rubia cordifolia – 384 g
Coarse powder of these ingredients are added with 36.864 ml of water. Boiled and reduced to 12.288 ml, Filtered. Thus Kashayam is prepared. It is added with the following ingredients –
Honey – 1.53 kg
Cardamom, Lotus stalk and Agaru – Aquilaria agallocha, Sandalwood – quantity sufficient.
Method of preparation:
All these ingredients are taken in a steel vessel, kept closed for one month.
In about a month time, the sugar in honey undergoes fermentation. Thus obtained liquid is filtered to get Madhukasavam.
Pharmaceutical significance

Usually fermented liquids are named as Asava, (as in Drakshasava), where in boiling and decoction making (Kashaya) procedure is not there. But Madhukasava is an exception. It is named as Asava, but there is Kashaya preparation as part of making this medicine.
Usually for Kashaya preparation, 4 times of water (to the herb) is added and boiled and reduced to 1/4th. Here, 3 times of water is added and boiled and reduced to 1/3rd.
Shloka- Sanskrit verse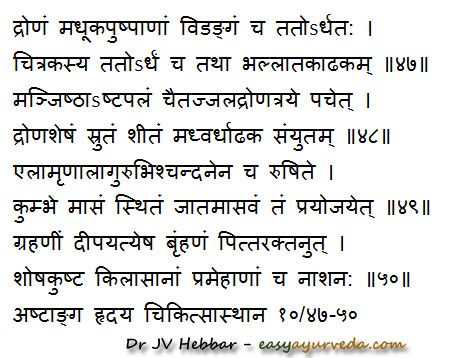 Reference
Ashtanga Hrudaya Chikitsasthana 10/47-50
AFI Formulations – Volume 1
How long to use?
It is used for a period of 2 weeks – 4 months time
Kids,pregnancy and lactation
Safe for kids?
It is safe to use this medicine in lower dose, in children above 7 years of age.
Pregnancy and lactation –
During pregnancy it is best avoided or can be taken based on doctor's prescription.
It can be taken during lactation period, because it is advised for it.

Expiry date and storage
Expiry date: 10 years from the date of manufacture.
Storage: Store in a cool place in tightly closed amber coloured bottle, protect from light and moisture.

Manufacturers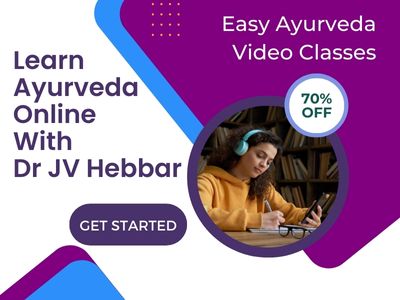 Kakkanat Ayurveda Asramam, Chamakkatt Herbal products