Kutajarishta is a liquid Ayurvedic medicine, used in the treatment of diarrhea, dysentery, IBS etc. It contains 5 – 10 % of self generated alcohol in it. This self generated alcohol and the water present in the product acts as a media to deliver water and alcohol soluble the active herbal components to the body.

Reference
Bhaishajya ratnavali, Atisara – 97 – 99

Dose
12 – 24 ml. one or two times a day, usually advised after food.
If needed, it can be mixed with equal quantity of water.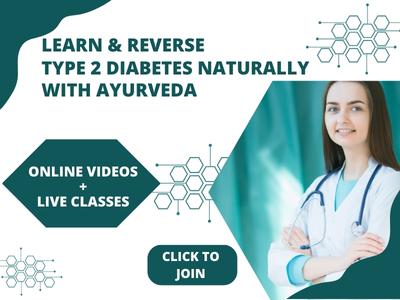 With western medicines
Seek your doctor's advice if you are taking this product along with other western (allopathic/modern) medicines. Some Ayurvedic herbs can interact with modern medicine.
If both Ayurvedic and allopathic medicines are advised together, then it is best to take allopathic medicine first, wait for 30 minutes and then, after a gap of 15 – 30 minutes, take Ayurvedic medicine or as directed by the physician.
Can this be used while taking Homeopathic medicine?
Yes. This product does not react with homeopathic medicine.
With supplements like multivitamin tablets, Omega 3 fatty acids etc?
Yes. Generally, this product goes well with most of the dietary supplements. However, if you are taking more than one product per day, please consult your doctor for an opinion.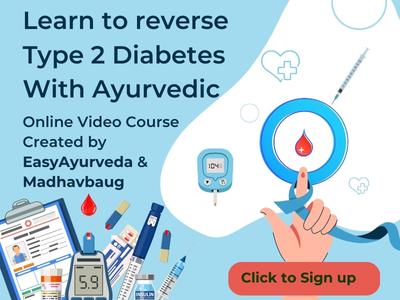 How can dry grapes, which have a laxative effect, be used in Kutajarishta?
Uses
Kutajarishta is widely used in Ayurvedic treatment for diarrhea, dysentery, fever, bleeding disorders of intestine irritable bowel syndrome, Crohn's disease, hemorrhoids. Strengthens digestive power.
Doctors also use this for the treatment of
Diarrhea, dysentery and Irritable bowel syndrome associated with antibiotic usage.
Traditional uses:
It is useful in all types of fever – Sarva Jvara
Useful in irritable bowel syndrome, malabsorption syndrome – Grahani
Useful in diarrhoea / dysentery with bleeding, Crohn's disease, ulcerative colitis etc – Raktatisara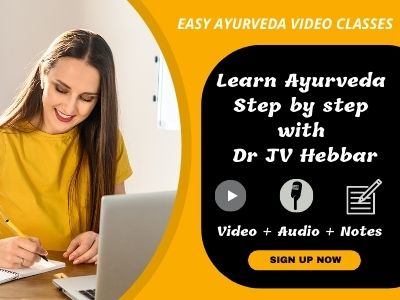 Watch video
Diet advice:
Drink plenty of water. Yogurt, rice, potato, blueberry, fenugreek seeds.
Avoid milk and dairy products, bran, cauliflower, cabbage, berries, green leafy vegetables, Celery, squash, beans, mushroom, oranges.
Side effects
There are no recorded side effects, however, a very high dose of Kutajarishta may lead to constipation.
Ingredients

Kutaja (Holarrhena antidysenterica)- Stem bark – 4.8 kg
Mridveeka -Dry grapes – 2.8 kg
Madhuka (Madhuca indica) – FLower – 480 g
Kashmari (Gmelina arborea) – Stem bark / root – 480 g
water for Kashayam – 49.152 kg, boiled and reduced to 21.288 liters
Guda – Jaggery – 4.8 kg
Dhataki (Woodfordia fruticosa) – flower – 960 g
Method of manufacturing:
Coarse powder of first four herbs is made, added with water, boiled to make Kashaya, reduced to specified quantity and filtered. To it, jaggery is added and dissolved, filtered and then Dhataki is added. Kept closed in a clean air tight container for one month time period for fermentation.
After a month, it is taken out, filtered and preserved.
Shloka- Sanskrit verse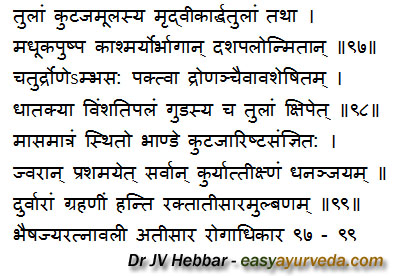 Safe for kids?
It is safe to use this medicine in lower dose, in children above 5 years of age.
Pregnancy and lactation –
During pregnancy it is best to take only under medical supervision. Self medication during pregnancy should be avoided.
It can be taken during lactation period, under doctor's advice, for a short period of time.
Manufacturers
Zandu, Sandu, Dabur, Baidyanath, Arya Vaidya Sala, AVP,
Nagarjuna – Kutajaarishtam
Expiry date: 10 years from the date of manufacture.
Storage: Store in a cool place in tightly closed amber colored bottle, protect from light and moisture.
Can Kutajarisht be given in children?
Yes, under medical supervision, it is commonly prescribed in children, in lower doses. Often it is mixed with water before administration.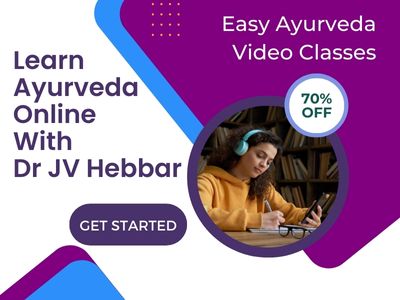 Its taste is very strong and bitter. is there any other way to take it?
It can be mixed with equal parts of water, just before taking. This helps to mask the taste a bit.