Drakshasava is a liquid Ayurvedic Medicine, useful in cardiac disorders, hemorrhoids, fever etc. It contains 5 – 10 % of self generated alcohol in it. This self generated alcohol and the water present in the product acts as a media to deliver water and alcohol soluble the active herbal components to the body.
Reference
Bhaishajya Ratnavali Arshoroga Chikitas 9/170-173, AFI, Part-II, 1: 1
It is also called Mridwikasav / Mridwikasavam.
Dose
12 – 24 ml. one or two times a day, usually advised after food.
If needed, it can be mixed with equal quantity of water.
>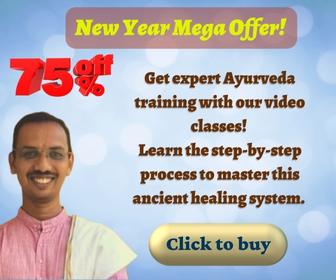 With western medicines
Seek your doctor's advice if you are taking this product along with other western (allopathic/modern) medicines. Some Ayurvedic herbs can interact with modern medicine.
If both Ayurvedic and allopathic medicines are advised together, then it is best to take allopathic medicine first, wait for 30 minutes and then, after a gap of 15 – 30 minutes, take Ayurvedic medicine or as directed by the physician.
Can this be used while taking Homeopathic medicine?
Yes. This product does not react with homeopathic medicine.
With supplements like multivitamin tablets, Omega 3 fatty acids etc?
Yes. Generally, this product goes well with most of the dietary supplements. However, if you are taking more than one product per day, please consult your doctor for an opinion.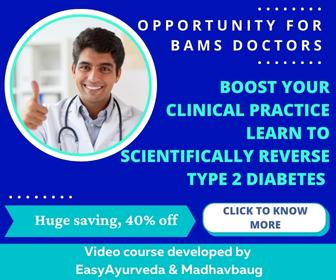 Side effects
A very high dosage than the prescribed may cause loose stools and stomach complaints.
Uses
Drakshasava is used in the treatment of piles, fistula, indigestion, bleeding diseases, intestinal worms, injury, wounds.
Drakshasava calms Vata and Pitta
Traditional uses:
Useful in hemorrhoids – Gudakeelaka
Useful in anxiety and depressive disorders – Shoka
Useful in anorexia – Arochaka
It is an excellent cardiac tonic – Hrut
Useful in anemia – Pandu
Useful in bleeding disorders such as menorrhagia, nasal bleeding etc – Raktapitta
Useful in fistula in ano – Bhagandara
Abdominal tumors – Gulma
Ascites – Udara
Intestinal worm infestation – Krumi
Small tumors – Granthi
Injuries leading to blood loss – Kshata
Emaciation, weight loss – Shosha
Fever – Jvara
Improves strength and immunity – Balakrut
Improves skin complexion – Varnakrut
Effect on Tridosha – Balances Vata and Pitta
Ingredients
Draksha – Dry grapes – dried fruit – 4.8 kg
water for Kashayam – 49.152 liters boiled and reduced to 12.288 liters
Sharkara – sugar – 4.8 kg
Madhu – Honey – 4.8 kg
Prakshepa –
Dhataki (Woodfordia fruticosa) – flower – 336 g
Jati (Jasminum officinale) – flower – 24 g
Lavanga – Clove – Flower bud – 24 g
Kankola (Piper cubeba) – Fruit – 24 g
Lavali (Cicca acida) – fruit – 24 g
Chandana (Santalum album) – Heart wood – 24 g
Krishna – Long pepper fruit – 24 g
Twak – Cinnamon – bark – 24 g
Ela – cardamom – seed – 24 g
Patra (Cinnamomum tamala) – leaf – 24 g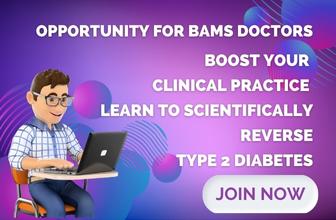 Method of Manufacturing
Usually, Asava is prepared without making Decoction. But, Draksasava is prepared by the decoction method only.
Raisins decoction is prepared by boiling it with the said amount of water, reducing it to a quarter part, filtered.
To it, sugar is added, dissolved, filtered.
To it, rest of the ingredients are added.
This mix is taken in a vessel, which is coated with ghee from inside.
It is sealed and fermentation is allowed to happen for 3 weeks.
Then it is taken out and filtered. The obtained Drakshasava is preserved.
Shloka- Sanskrit verse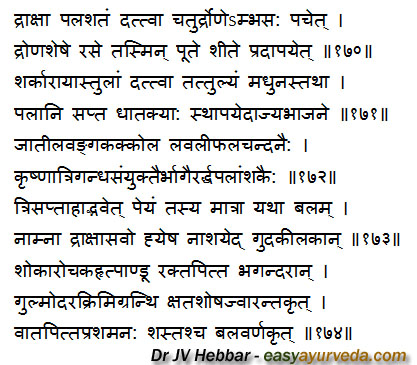 Safe for kids?
It is safe to use this medicine in lower dose, in children above 5 years of age.
Pregnancy and lactation –
During pregnancy, it is best to avoid this / take this only under medical supervision.
During lactation period, it can be taken in lower doses, based on doctor's advice.
Manufacturers
Zandu, Dabur, Baidyanath, Arya Vaidya Sala, AVP.
Baidyanath Drakshasava special
Baidyanath manufactures a special Drakshasava called as Drakshasava special.

Ingredients of Baidyanath Drakshasava (Special):
Munakka – Vitis vinifera
Kababchini – Piper cubeba
Chaturjat –
Cinnamon – Twak – Cinnamomum zeylanicum
Patra – Cinnamomum tamala
Cardamom – Ela – Elettaria cardamomum
Nagakeshara – Mesua ferrea
Clove – Laung – Syzygium aromaticum
Nutmeg – Jaiphal – Myristica fragrans
Black pepper – Marich – Piper nigrum
Long pepper – Pippali – Piper longum
Long pepper root – Piplamul – Piper longum
Chitraka – Plumbago zeylanica
Chavya – Piper retrofractum
Dhataki Puspa – Woodfordia fruticosa
Jaggery – Guda

Uses of Baidyanath Drakshasava special:
It has anti pyretic, diuretic and diaphoretic properties.
It is used in phthisis, loss of appetite, cough and general debility.

Dosage of Baidyanath Drakshasava special:
It can be given in the dose of 3 to 6 teaspoonful with equal quantity of water twice after meals.
Or as directed by the physician.
Expiry date: 10 years from the date of manufacture.
Storage: Store in a cool place in tightly closed amber coloured bottle, protect from light and moisture.
Is it bad for sexual health? Does it affect sperm count?
It is in fact good for sexual health and it does not decrease sperm count.
Habit forming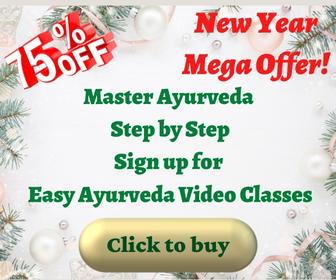 Is this medicine habit forming? Does it create dependence? Can we stop it after a few months of usage?
This medicine is not habit forming. After using for the prescribed period, your doctor would gradually decrease the dose and eventually stop it. Follow your doctor's instructions for gradual decrease of dose and stopping. Usually it does not cause any ill effects.